Conference Chairman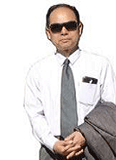 Prof. Yulin Wang
School of Computer Science, Wuhan University, China.
Research area: Image and Video Processing, Digital Rights Management, Information Security, Intelligent System, E-commerce, LoT, Code Clone
Introduction: He got his PhD degree from University of London, UK. He got his master and bachelor degree from Huazhong University of Science and Technology(HUST)and Xi-Dian University respectively, both in China. In recently 10 years, Prof. Wang has published 1 book, and 50+ journal and conference papers, including in IEEE TIP. He holds 10 authorized patents. Prof. Wang served as EiC of 2 international journals and reviewer of top IEEE and ACM journals. He also served as reviewer of Innovative talents projects and national research funds, including National High Technology Research and Development Program of China. Prof. Wang was the external PhD advisor of Dublin City University, Ireland during 2008-2010.
Prof. P. Partheeban
Chennai Institute of Technology, India
Research Area: Transportation Engineering
Introduction: Ph.D, he is Professor of chennai institute of technology
Program Committees
Prof. Jiang Zhu

Department of Mechanical Engineering, Tokyo Institute of Technology, Japan




Research Area:

Intelligent Manufacturing, Laser processing, Robotics, Digital Manufacturing

Prof. Sandeep Saxena

Galgotias College of Engineering and Technology, Greater Noida, Uttar Pradesh, India




Research Area:

Cloud Computing, Information Security, Blockchain

Prof. Gongduan Fan

Fuzhou University, China




Research Area:

Construction of sponge city, Water system planning and water ecological restoration, Water pollution control theory and technology, Environmental functional materials




Assoc. Prof. Ishak Hibat Allah Abdelouahab

Ecole Supérieure en Informatique, Algeria




Research Area:

Cloud Computing, Big Data, Distributed Computing Systems

Assoc. Prof. Cengyuan He

School of Information and Electrical Engineering, Asia University, Taiwan, China




Research Area:

Artificial Intelligence, Computer Networks, 5G, Big Data Analytics

Assoc. Prof. Serhii Bashlai

Department of Economics, Sumy National Agricultural University, Ukraine




Research Area:

Modern Financial Credit Technology, Digital Economy, Agribusiness

Senior Assistant Prof. Md. Khaja Mohiddin


Bhilai Institute of Technology Raipur, Indian




Research Area:

Communication, Mobile Sensor Networks





Dr Ariffin, Nor Hapiza

Information System Department, Universiti Teknologimara, Selangor, Malaysia




Research Area:

Information System, Information Technology, E-learning



Technical Program Committees
Prof. Syed Abdul Rehman Khan, Tsinghua University, Pakistan
Prof. N.Rajathi, Kumaraguru College of Technology, India
Assoc. Prof. Rajeev Tiwari, School of Computer Science, University of Petroleum and Energy Studies, India
Assoc. Prof. Mohammad Khishe, Elecronic Engineering Department, Iran University of Science and Technology, Iran
Assoc. Prof. Sharifah Sakinah Syed Ahmad, Faculty of Information & Communication Technology, Universiti Teknikal Malaysia,Malaysia
Dr. Xuefang Nie, East China Jiaotong University
Dr. Morteza Hosseini, Department of the Built Environment, Eindhoven University of Technology, Netherlands, Iran
Dr. Mohammadreza Vafaei, Universiti Teknologi Malaysia, Iran
Dr. Aslina Baharum, User Experience Research Lab (UXRL), Universiti Malaysia Sabah (UMS), Malaysia
Dr. Azim Zaliha Abd Aziz, Faculty of Informatics & Computing, Universiti Sultan Zainal Abidin, Malaysia
Dr. Sharifah Akmam Syed Zakaria, Universiti Sains Malaysia, Malaysia